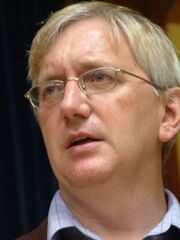 In six words or less
Edit
Writer, Broadcaster, Scottish Dissident and Politician.
In his own words:
Edit
"I'll fight ID cards, Trident, tuition fees, bank bail-outs and government intrusion." (from CraigMurrayOrg on twitter)
Born 1958 in West Runton
Clever enough to appear as contestant on University Challenge.
Former British Ambassador
Active campaigner for Human Rights
Married to Belly Dancer Nadira Murray
Craig was strangely not mentioned at all during a BBC Newsnight report on the Norwich North by-election.
Political Beliefs:
Edit
As the candidate for the "Put an Honest Man into Parliament" Party standing in the Norwich North by-election I believe that:
Politicians should be honest.
The current government has been far from honest in many areas of policy
Rail travel in the UK is too expensive
Policies:
Edit
General:
Edit
Immediately stop accepting any intelligence from regimes known to practise torture
Push to prosecute any UK politicians believed to have been complicit in the use of torture.
Transport
Edit
Meet Craig
Edit
Craig will be available during his series of Public meetings:
Crooks Lies and Politicians
An Evening With Craig Murray.
Friday 3 July Norwich Puppet Theatre, Barrack St, 7.30pm.
Tuesday 7 July Norman Centre Mile Cross, 7.30pm.
Thursday 9 July, Norwich Playhouse, 7.30pm
Friday 10 July, Hellesdon High School, 7.00pm
Saturday 11 July, Taverham Village Hall, 7.30pm Tuesday 21 July, Thorpe Frog Hall, 7.30pm
Blog: http://www.craigmurray.org.uk
Twitter: http://twitter.com/CraigMurrayOrg
Campaign Site: http://www.putanhonestman.org/
Ad blocker interference detected!
Wikia is a free-to-use site that makes money from advertising. We have a modified experience for viewers using ad blockers

Wikia is not accessible if you've made further modifications. Remove the custom ad blocker rule(s) and the page will load as expected.